COVID-19 Notice
At Pepco, safety is our top priority. We are closely monitoring developments related to the coronavirus (COVID-19) pandemic and taking appropriate precautions to protect the health and safety of our customers, employees, and contractors. At this time, scheduled appointments under the Smart Home Pilot Program will be cancelled, and we will contact you to reschedule at a later date. We apologize for any inconvenience, and thank you for your patience during this challenging time. Please check back soon for updates.
Smart Home Pilot Program
Jump-Start Your Savings Today
Enjoy comfort, convenience, and reduced energy costs when you make your home a smart home. Pepco can help you get started with a Smart Home Kit that includes energy-saving items like a smart thermostat, entry sensors, and more—a $700 value—all at no additional cost. Simply enroll in Pepco's Smart Home Pilot Program to receive your kit.
Here Is What's Included: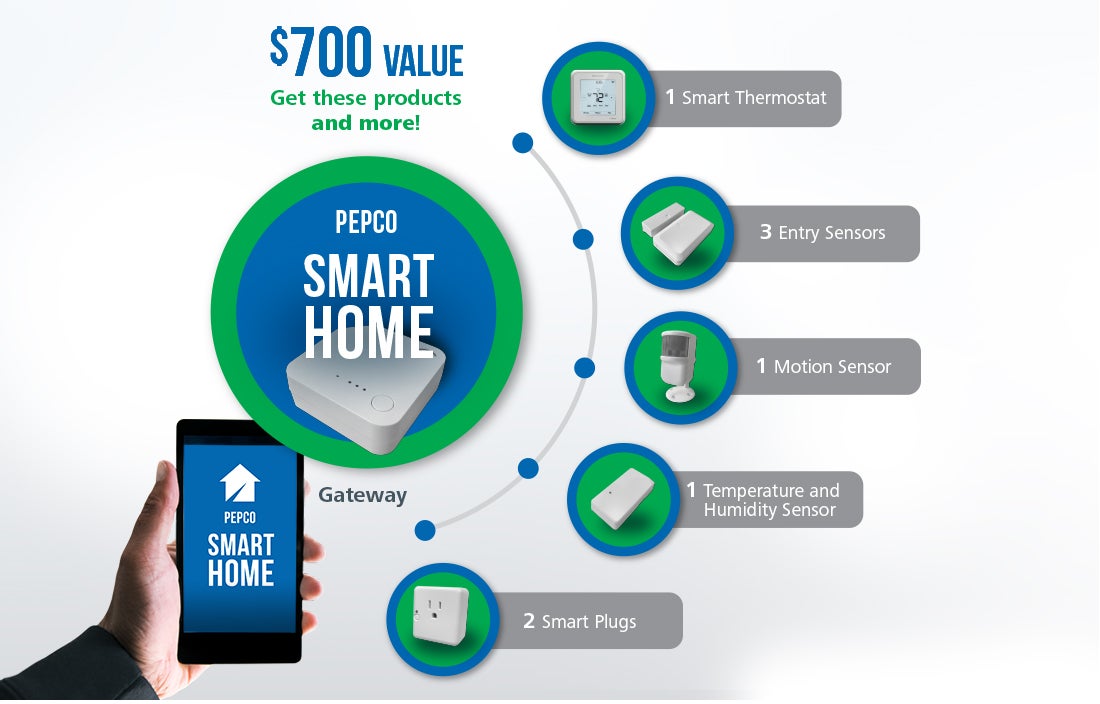 1 Gateway Hub
1 Motion Sensor
1 Temperature and Humidity Sensor
1 Large Load Controller for your Electric Water Heater or Pool Pump
1 Smart Thermostat
2 Smart Plugs
2 Smart Switches
3 Entry Sensors
What Is a Smart Home?
A "smart home" is one that is equipped with household products and devices that streamline daily tasks like setting the temperature and turning lights on and off. These smart devices connect to a single gateway hub that allows them to communicate. You set up rules to control the devices with an app and they work together to optimize your home.
When your Pepco Smart Home Kit arrives, we can help you easily install smart devices like plugs, motion sensors, and entry sensors. We'll also install smart switches and a large load controller that will help you control and monitor the energy usage of your electric water heater or pool pump, especially during energy conservation periods.*
Why Participate?
Pepco's Smart Home Pilot takes the guesswork out of getting smart home technology up and running in your home. You'll enjoy the energy savings and increased comfort—at no additional cost!
When you enroll, you'll be able to:
Monitor and control lighting, home appliances, smart thermostats and other devices remotely. Anytime, anywhere.
Receive notifications about your home's energy use and get personalized energy-saving tips.
Get alerts when doors or windows are opened, or other motion is detected, when you are away from your home.
Save energy by using automated smart home rules customized to your specific energy needs.
Reduce demand during energy conservation periods by going beyond thermostat adjustments and reducing energy consumption from other appliances.
Who Is Eligible to Participate?
Pepco residential customers in Maryland who:
Reside in a single-family home or individually metered townhouse or condominium for at least 12 months.
Have an electric heat pump or central air conditioning, and either a pool pump, dehumidifier, window A/C unit or space heater.
Have an Ethernet internet connection available in the home (typically an available port on your router).
Have a password-secured home Wi-Fi connection.
Have an iOS or Android mobile device.
Learn More About the Smart Home Devices:
The Gateway hub connects to your home internet using the provided Ethernet cable. As the centralized hub for all of your Pepco Smart Home devices, it enables you to control and monitor your smart home from any location using your iOS or Android device.
Motion Sensors detect motion in your home using infrared technology. They help your Pepco Smart Home detect occupancy, so you can set them up to monitor, control, and ultimately automate your home's energy usage and adjust to the electric demand during peak energy events.
Temperature and Humidity Sensors make your smart thermostat even smarter and help ensure that you're comfortable in any room during any weather.
Large Load Controllers help you manage the energy consumption from your electric water heater or pool pump—two appliances that use a lot of energy. By connecting your electric water heater or pool pump with the Pepco Smart Home Kit, you'll be able to reduce energy use during conservation events.
Smart Thermostats can learn your preferences and make automatic adjustments to your home's temperature to improve comfort and performance, especially during energy conservation events. By pairing your smart thermostat with the Pepco Smart Home Kit, you can save energy and money by monitoring and adjusting your thermostat settings from anywhere, anytime.
Smart Plugs control and monitor household electronics like your entertainment center, small kitchen appliances and office equipment via your mobile device. You can schedule your plugs to turn on and off at certain times and monitor how much energy certain appliances use. This can help identify which household items might be consuming the most energy.
Smart Switches allow you to control the lighting in your home both remotely through your mobile device and on a set schedule. When connected to lighting, you can create schedules for when the lights should automatically turn on or off, or even adjust the brightness—especially during conservation periods.
Entry Sensors monitor your doors and windows to ensure you avoid accidentally wasting energy by having one open while your heat or air conditioning is on. If a window or door is opened or closed during active heating or cooling of your home, these sensors will send an alert to your phone.
This pilot is designed to test the impact of smart devices on residential energy use. Enrollment is determined by a screening process and available on a first-come, first-served basis. Visit our enrollment portal today to see if you're eligible!
*Energy Wise Rewards is a voluntary program to help customers save money and energy automatically. The program works by initiating conservation periods for participating central air conditioners or heat pumps on Peak Savings Days, select summer days when energy demand is high.

EmPOWER Maryland programs are funded by a charge on your energy bill. EmPOWER programs can help you reduce your energy consumption and save you money. To learn more about EmPOWER and how you can participate, click here.