Giant Serves Savings in Every Aisle
Giant Food designed a sustainable retailing strategy to reduce the environmental impact at its 150+ locations while maintaining its mission to provide customers with a simple and easy shopping experience. To help achieve its goal, Giant partnered with Pepco's Energy Savings for Business Program to make a variety of energy-efficient improvements at each of the stores in Pepco's service territory.
Click here to read Giant Food's complete success story.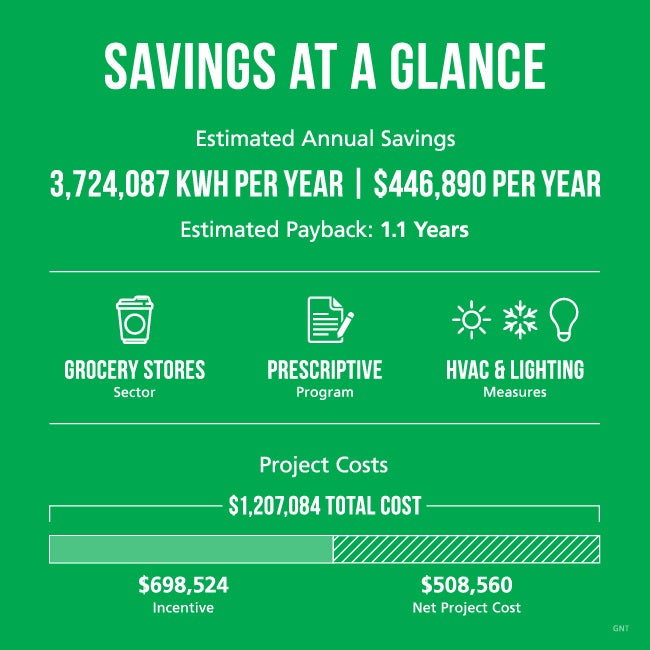 The Opportunity
Working in tandem, Giant, Retail Business Services and Pepco decided that making upgrades to lighting and to condensation controls in freezers presented the best opportunity to improve energy efficiency across the board
The Upgrades
Giant installed anti-sweat heater control systems at 27 of its stores
The company also installed new LED lighting and a wireless lighting control system for automatic dimming at 14 of its stores
The Benefits
Energy savings of approximately 2,949,849 kilowatt-hours annually
Total cost savings of $353,982 annually
Lower operating costs
Positive response to the lighting upgrades from employees and customers
We Are Here to Help
Have any questions about the incentives, your eligibility, or how to apply? Contact us and we can help you get started today.

EmPOWER Maryland programs are funded by a charge on your energy bill. EmPOWER programs can help you reduce your energy consumption and save you money. To learn more about EmPOWER and how you can participate, click here.